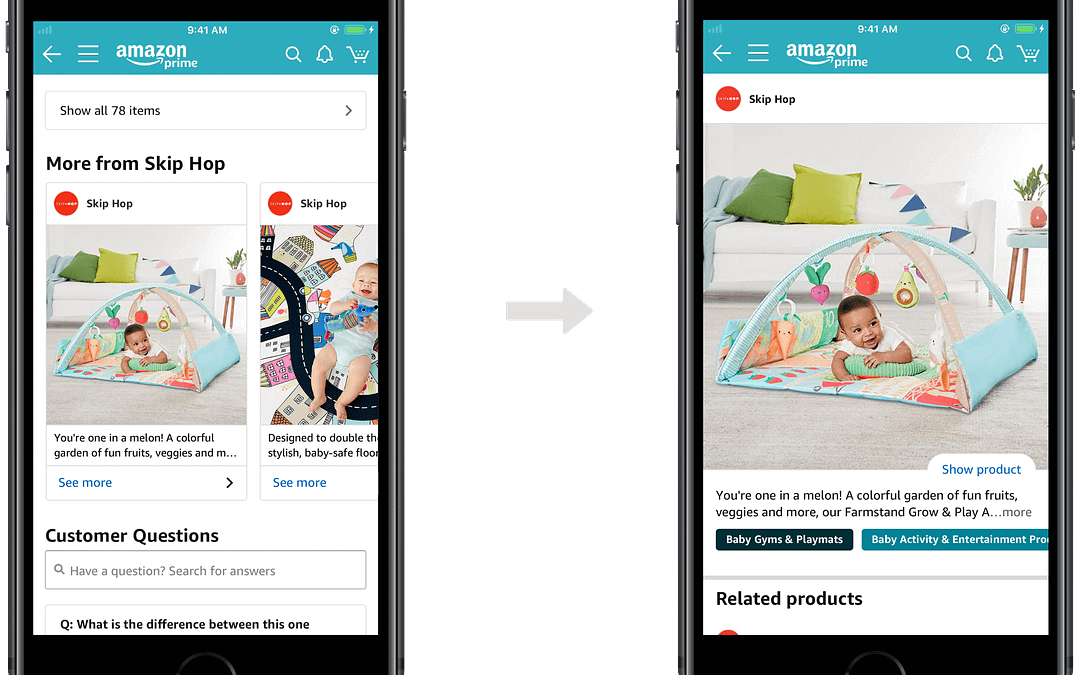 It's challenging to build brand loyalty on a platform like Amazon, which highlights the price and speed of delivery above all else. Shoppers who focus on one particular item might not know that your brand has a deep product lineup, and will miss the opportunity to browse your catalog and make a follow-up or related purchase.
That's why Amazon is testing out Amazon Posts, a new product browsing and discovery experience.
UPDATE: As of July, brands can now add multiple products to their Amazon Posts, schedule Posts and download reports to analyze how Posts are performing. (See more below)

Introducing Amazon Posts

Amazon Posts is a new way to browse and discover products on the Amazon platform. Its function is similar to that of a social media feed. Each brand is allowed to publish a stream of posts (image-only for now) that are curated and controlled by the brand itself.

Why should I sign up for Amazon Posts?

Amazon Posts allows brands to duplicate what they're doing on social media channels like Instagram within the Amazon Marketplace. It can also help your brand stand out from competitors and draw the attention of shoppers.
In a way, it's even better than traditional social media because you'll be able to share branded, product-focused content on a platform specifically built for commerce.
Best of all? Amazon Posts is currently free to join. We don't know whether that will change in the future, so it's best to get on it now, while you have the chance!

What are the benefits for brands that start utilizing Amazon Posts?

According to our experts at Tinuiti, some of the benefits of Amazon Posts include:
Increase Brand Awareness
Competitor Conquesting (showing up on competitor product detail pages)
Defend Your Product Detail Pages
Can Drive Incremental Sales for Free (drives traffic to product detail pages at no cost)
"Beyond the benefits listed above, Amzon Posts provide an opportunity to be less formal with your messaging than you would be in your detail page copy. You can use Amazon Posts to point out the unique benefits of a product using a language that sounds like it is coming from "a friend" rather than a brand."
– Dylan Verburgt, Senior Analyst, Marketplaces at Tinuiti said.

"Amazon posts are different than Instagram posts because all Amazon Posts drive traffic to a product detail page. I believe it is important to have some element of product-related info in all posts rather than non-product related lifestyle imagery for brand building purposes as you would commonly see on Instagram."

What happens when I publish on Amazon posts?

For now, a branded post will be published to one or more of the following fields:
Brand-Owned details page
Related Brand details page
Related Post feed
Category feed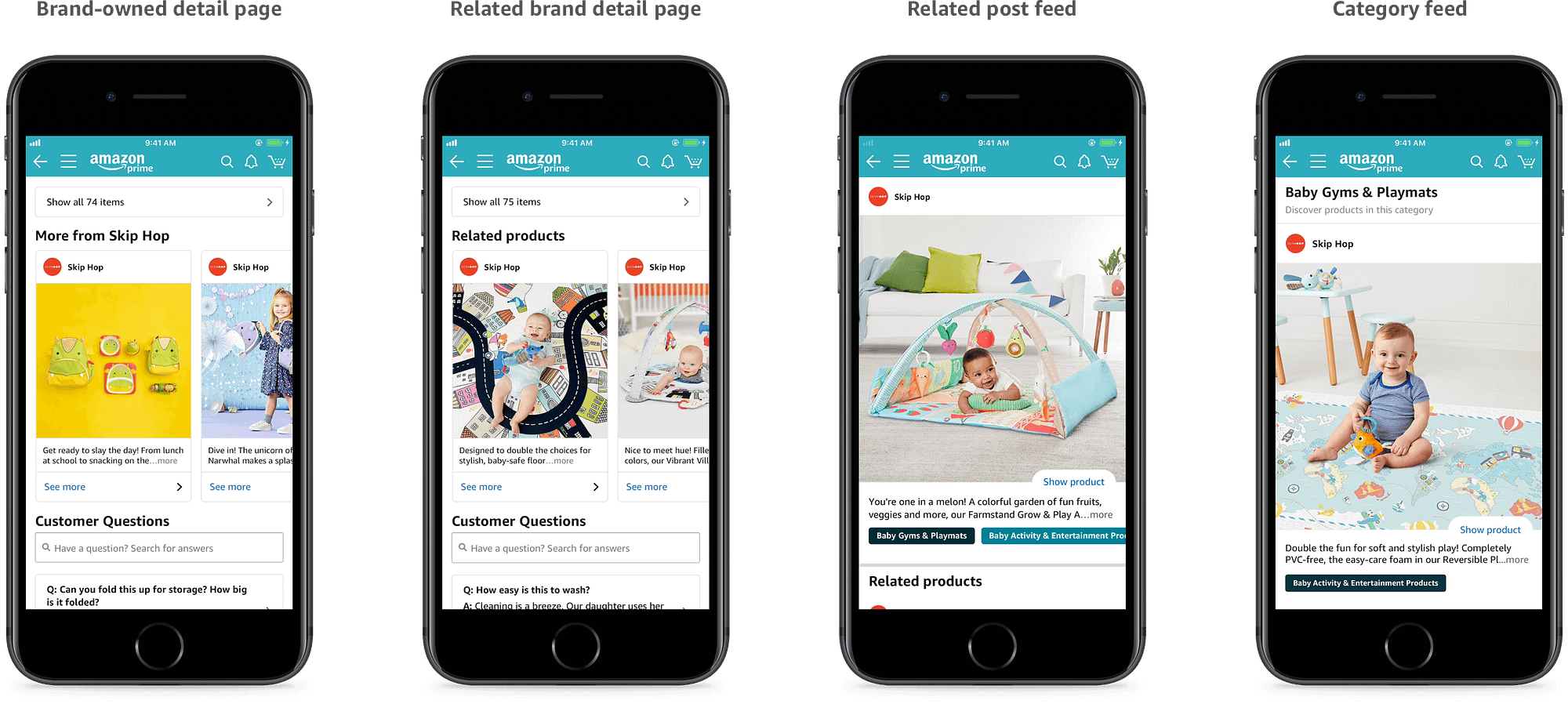 Your brand will not be able to choose which feed your posts will be published on. Amazon will decide that for you, although the category tags you use will help influence its final destination.
All of these posts are instantly shoppable. That means users can go straight to the item's details page to learn more and add it to their online shopping cart!
As you leverage Amazon Posts, you will receive metrics that can help you track engagement for the products in your feed, including clicks, views, and shares. You can use these metrics to assess which items are the most popular and whether this popularity is translating into actual sales.

New 2020 Features for Posts

As of July, brands can now add multiple products to their Amazon Posts, schedule Posts and download reports to analyze how Posts are performing.
Multi-product posts: Showcase variations of a product or collection of complementary products in your post. Create or edit a posts to add products.
Schedule posts: Plan your content in advance by scheduling your posts to go live on a future date. Create or edit a posts and select the scheduling option.
Downloadable reports: Analyze trends in impressions and engagement over time. Select a date range and download a report in your posts dashboard.
How do I sign up for Amazon Posts?
Amazon Posts is currently limited to brands that own an AmazonStore on the US Amazon.com site.
If you qualify based on the above criteria, then you can sign up for Amazon Posts by performing the following steps:
Visit posts.amazon.com
Sign in using your existing Amazon advertising credentials
Create your profile
Verify your brand name
Upload your brand's logo
Once those steps are complete, you will be able to publish posts by uploading photos, captioning them, and tagging related products.

How can I make the most of Amazon Posts?

Amazon Posts is still in its early stages, so there isn't much information around it as of yet. But you can get ahead of the competition if you follow these easy tips.
1. Amazon Posts functions basically the same way as a social media feed does. Keep posting high-quality content. Content is still king, no matter the format. Post high-quality images and keep your message consistent with the brand.
2. Post often. There are currently no limits to how much you can post, so fill the Related Products and Product Categories field with as much of your content as possible, before everyone else crowds in.
3. Metrics matter. Take full advantage of the metrics that Amazon Posts offers you. Use it to find out whether or not the popular and most engaging products in your feed are actually converting, and what you can do to increase interest.